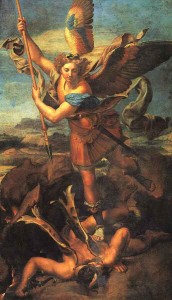 "Angels transcend every religion, every philosophy, every creed. In fact angels have no religion as we know it...their existence precedes every religious system that has ever existed on earth."
~ St. Thomas Aquinas
Throughout history, few Beings have generated more interest than Angels, the Divine Messengers of God.  From the difference between the Choirs of Angels to characteristics of individual Angels, this course will cover the traditional and esoteric teachings about from different religions and traditions.  The course will also include the a copy of The Angelus[1], Humanity Healing's Compendium of Angelical Rituals and Archangel Michael's Flaming Sword, A Ritual of Protection and Attunement.
---
[1]
The Angelus, A Compendium of Angelical Rituals and Archangel Michael's Flaming Sword, A Ritual of Protection and Attunement, ©2009 HHN, LLC.  All Rights Reserved