Twin Flames and Soulmates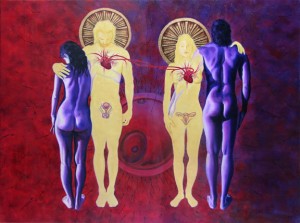 Humanity Healing is offering an eCourse about Twin Flames and Soulmates as part of the Online University.  Please note that the course will be based on the perspective of ageless wisdom, and while techniques are taught on connecting with your Twin Flame, this course is not about romance or dating.
The longing for our perfect mate is a need engraved in our DNA.
We harbor a desire for restoration and unity, and search for the piece that is always missing. In our journey through life, the search continues for something that can't be readily found.
It is a quest for wholeness.
The Union of the Twin Flame is one of Service. It should not be romanticized in the context by which one perceives the male and female relationship. The Service of the Twin Flame is not only planetary but also cosmic and Universal.
It is rare for Twin Flames to meet during the same incarnation, but it does happen. This is a sign that the split Soul is in its last incarnation and is to perform its ultimate selfless Service. What is much more likely is that at this time, your Twin Flame can send their Blessing to your current relationship or guide you to one that can fulfill you during this life. In this way, your Twin Flame can be a part of, and enrich, your current life.
There is a tremendous energy that can be directed to incorporate your Twin Flame into your life on a spiritual, emotional and possibly physical level. If you and your Twin are not incarnate together at this time, it will strengthen the bridge between your Souls and allow your Twin's energy to manifest in your life. If you and Twin Flame are both incarnate at this time, this will be a beacon for your Souls to come together.
We would like to thank everybody who participated with the Twin Flames and Soulmates Teleconference with the Twin Flame Blessing. As promised, we are posting the recording of the teleconference for the benefit of those who could not attend. The eCourse started with the teleconference recorded here:  http://humanityhealing.net/2010/08/twin-flames-and-soulmates-teleconference-23-august-2010 .
Please note that while the first teleconference was open to all, the balance of the Twin Flame and Soulmates Program is for Members of the Online University. Please check the Calendar and Announcements for the next teleconference and the Online Resource Center for the eBooks related to the program.
If you are looking for a place that specializes in spiritually conscious and aware singles, we recommend: