Kuan Yin Prayers and Invocations
Kwan Yin Prayer and Invocations
Heavenly Bodhisattva of Compassion, she is the Master of the Divine hierarchy which works in the frequency of Mercy, Compassion and Unconditional Love. There is an implicit trust in the saving grace and healing powers of Avalokitesvara Kwan Yin . The invocation of his name immediately brings her consciousness to the place of the call .
Evoke the power  of Avalokitesvara Kwan Yin to break into your heart now as a sweet, soft scent, and so that  you can enjoy this loving energy as a divine gift.
She is the Goddess of Mercy , Compassion and Unconditional Love. As you enter her temple Of Mercy spiritually, the deep silence is the first noticeable detail to a visitor.
TO HEAR HER NAME AND TO CONTEMPLATE
SHE RELEASES HUMAN BEINGS OF ALL DISEASES .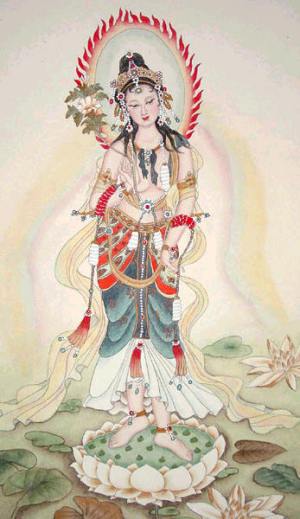 Beloved Kwan Yin, I invoke Thy sovereign Light,
The Divine Jewel of the Sacred Lotus,
Dwell in my Heart, Divine Goddess of Love.
Shine Thy Divine light on my way,
Illumine my steps, oh Beloved Mother of Mercy.
Mother, Holy Messenger of Divine Compassion,
Awaken Your Divine Light in my heart,
Transform my world with your Divine Blessings.
Have mercy on me Divine Mother, Jewel of the Divine Lotus,
Make me an instrument of Thy Compassion.
May your Divine Mercy enlighten in my heart today and always.
Divine Mother Kwan Yin, I revere Thy Divine Compassion,
That flows in my heart as your Heavenly and Eternal Song:
OM MANI PADME HUM
OM MANI PADME HUM
OM MANI PADME HUM
OM, OM, OM
ACTIVATING THE THREE FLAMES OF HEART
Beloved Mother Kwan Yin on behalf of your great mercy activate now at the center of my Sacred heart,
the Threefold Flame of Unconditional Love , Divine Wisdom and Creative Power  ( 3X).
In the name of my Mighty I AM Presence , I command that Sacred Threefold Flame in my heart expand its light in all directions here and now. ( 3x)
OM Avalokitesvara Kwan Yin,
I seek refuge in Your Mercy.
May I follow your footsteps and be compassionate to all beings.
O Great Mother of Mercy ,
Divine Mother Kwan Yin I embrace Thy light that flows in me here and now.
Om Mani Padme Hum - ( 108 x )
I Am, I Am, I Am,
The Lotus Jewel of Kwan Yin Awakening here and now.
Namo I Ju Kwan Yin ( 33 x )
Ah Um, ah Uh, Ah Hum
OM , OM , OM