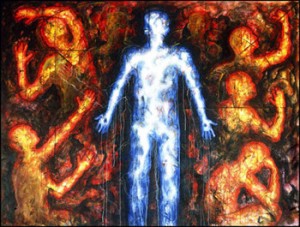 "The doctrine of avatars can be found running like a golden thread through our spiritual consciousness, relating all great faiths to one central source. The whole system of spiritual revelation is based upon a conscious linking and transmission of energy from one aspect of divine manifestation to another" ~ from "God in the Secret Place Most High" to the humblest human being struggling on earth."
Adapted from: Alice A. Bailey's, The Externalisation of the Hierarchy
http://www.lucistrust.org
Music: Charlottemarie, Hauau 2nd Movement
http://www.charlottemarie.com
Images: Google & Photobucket
We Honor the Unknown Artists
See Also
©2010 Humanity Healing. Partial Rights Reserved.
FAIR USE NOTICE
This video may contain copyrighted material the use of which has not always been specifically authorized by the copyright owner. We are making such material available in our efforts to advance understanding of environmental, political, human rights, economic, democracy, scientific, and social justice issues, etc. We believe this constitutes a 'fair use' of any such copyrighted material as provided for in section 107 of the US Copyright Law. In accordance with Title 17 U.S.C. Section 107, the material on this site is distributed without profit to those who have expressed a prior interest in receiving the included information for research and educational purposes.