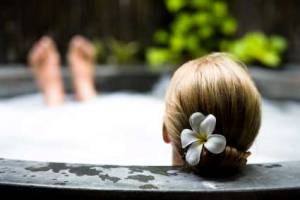 Advisable for those are doing independent transformational internal work
Ingredients:
2 cups Epsom salts
2 cups Baking Soda
2 cups Sea Salt
5 Tbsp Ground Ginger
1 cup Vinegar
Directions:
1. Combine dry ingredients, storing in a closed container. At bath time add 1 cup of dry ingredient mix and 1 cup vinegar to hot running water. Optional: add several drops of your favorite essential oil. Enjoy!
Benefits:
- Epsom Salts draws toxins from the body, relieving aches and pains.
- Baking Soda balances an overly-acidic system, refreshing, energizing and softening the skin.
- Sea Salt soothes, healing open sores and blemishes.
- Ground Ginger increases circulation.
- Vinegar soothes and softens the skin.