Home » Animal Evolutionary Consciousness Through the Diverse Religions I
Animal Evolutionary Consciousness Through the Diverse Religions I
Overview of the Existence of an Animal Evolutionary Consciousness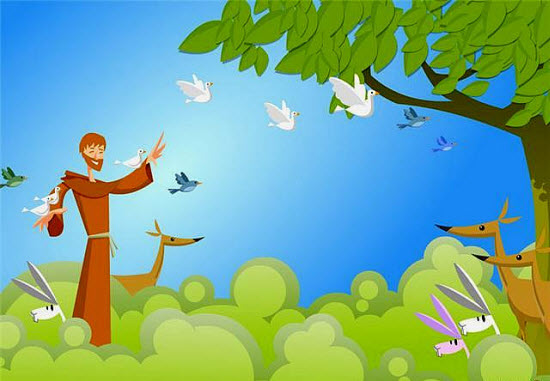 "Humans are amphibians - half spirit and half animal. As spirits they belong to the eternal world, but as animals they inhabit time." ~C. S. Lewis
Many folktales and legends refer to the ancestral eras of fables that portrays the time when the "myth" of the coexistence of man and animal were a genuine expression of religious emotion. From the conception of the ancient Sphinx, summarizing the characteristic of the four noble animals as the four mighty Cherubs[1], protectors of Creation, to the shape-shifting of the old Gods of Greek and the animal-shaped Gods of the Hindu pantheon; we see our animal partners as active elements of an ageless and integral understanding of spirituality.
The opening of Imaginary of men saw the archetypal myths engraved in patterns in the sky. These myths were told according with the movement of the stars and/or entire constellations. The Denderah[2] zodiac in Egypt and the Babylonian sky mapping tell us how relevant were the animals to explain and categorize these myths. In the open chapters of the Bible, in Genesis, it is spoken clearly of no powerful and privilege domain from the essential part of Men toward other elements of creation, but instead it announces the covenant of God with men, with the birds, the creatures and all the beasts of the earth, they are with us during this cycle of creation.
See Also
Home » Animal Evolutionary Consciousness Through the Diverse Religions I
---
[1] Cherubim are mentioned in the Torah (five books of Moses), the Book of Ezekiel, and the Book of Isaiah. They are also mentioned in the books of 1 Kings, 2 Kings, 1 Chronicles, and 2 Chronicles mainly in the construction of the House of God. They are also mentioned extensively in the Psalms. There is only one mention in the New Testament, in Hebrews 9:5, referring to the mercy seat of the Ark of the Covenant. NOTE: The two cherubim placed by God at the entrance of paradise (Gen. iii. 24) were angels created on the third day, and therefore they had no definite shape; appearing either as men or women, or as spirits or angelic beings (Genesis Rabbah xxi., end).
[2] The zodiac is a planisphere or map of the stars on a plane projection, showing the 12 constellations of the zodiacal band forming 36 decant of ten days each, and the planets.