The Hero Journey and the Archetypes of Change
The Hero Journey and the Archetypes of Change
Doctor Carl Jung, a Swedish psychiatrist who lived between 1875 and 1961, was the founder of Analytic Psychiatry.  This school of thought within the field of psychology was the major contributor to a better, more integral understanding of human beings, the mechanics of our destiny, and the interactions we have with our different dimensions of reality.
For Jung, our psyche is formed by the aggregation of patterns and human experiences inherited by our ancestors through the line of time.  While time seems linear, these inherited patterns are non-linear, and Jung gave them the name of  "archetypes".  Our central archetype contains all the symbols and experiences of reality that enable us to practice and interact with our immediate world.  These symbols are sensorial complements that connect thoughts to emotions and memories.  Together, they compose what we call Psychic Determinism.
Mankind, through its evolutionary process, has lost its natural contact with nature, which is the biggest symbol of connection with this planet.  Despite this present state of reality, there is nothing that can detach an incarnated human soul from the scope of experiences and lessons to be learned on this plane of existence.  The reason for this atavic link is an intrinsic relationship between all elements of nature, on a greater grid of life.  Once these sacred links were honored through ancient rites of passage, and ceremonies that celebrated the seasons of change and transformations.  These also resembled the rhythms and cycles of nature.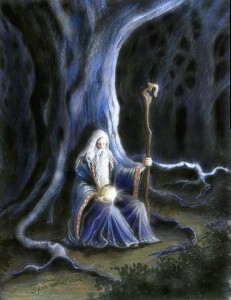 Nevertheless, we still feel the need to become whole again, and intrinsically connected with our origins and with the Oneness of Earth - to finally renew our true essence through reintegration.  According to Jung, the compelling feeling that drives us to the universal human intention of reintegration with Nature patterns, and intimacy with its elements and beings, comes from an identity crisis that starts in the second half of life.  He called this life passage, or phase, the Individuation Process.  To represent this process, Joseph Campbell (1) developed the Myth of the Hero Journey, which is based upon the un-conscientious movement of our psyche that impels us toward self-development and self-realization, which ultimately is the liberation of our higher and central archetype, the SELF.