Kundalini and the Fire of the Holy Spirit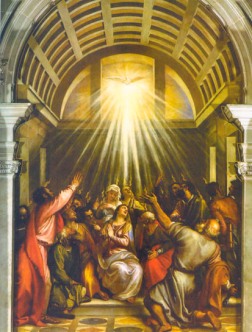 Some of these extra-sensorial powers are:
telepathy which is the communication of thoughts;
clairvoyance which is the vision of what happens at a distance;
astral projection which is the outflowing of a conscious invisible body out of the physical body;
the gift of healing with the hands or fingertips;
and other gifts such as levitation, invisibility etc.
"I have reached the inner vision and through Thy Spirit in me I have heard Thy wondrous secret, through Thy mystic insight Thou hast caused a spring of knowledge to well up within me, a fountain of power, pouring forth living waters, a flood of love and of all embracing wisdom, like the splendor of eternal light" ~ Book of Hymns of the Dead Sea Scrolls
The Kundalini also awakens the Jina State[2], which is the extraordinary and wonderful practice that allows the introjection of our physical body into other dimensions of the universe and unravels the mysteries of life and death.
"And suddenly there came from heaven a sound as of the rushing of a mighty wind, and it filled the entire house where they were sitting. And there appeared unto them tongues parting asunder, like as of fire; and it sat upon each one of them." ~ Acts 2, 2-3
See Also
The Kundalini is symbolized by a serpent biting its own tail, showing that transcendental energy is compressed like a spring. The Egyptians, and in the same way as the Mayans and Hindus, knew the Secret Serpent of Fire, as did the Gnostics, which considered its mastery to be the Keys of Eternal Wisdom.
"She is the first power. She preceded everything, and came forth from the Father's mind as forethought of all. Her light resembles the Father's light; as the perfect power She is the image of the perfect and invisible Virgin Spirit. She is the first power, the glory, Barbello, the perfect glory among the worlds, the emerging glory, She glorified and praised the Virgin Spirit for she had come forth through the Spirit. She is the first thought, image of the Spirit. She became the universal womb, for She precedes everything, the common parent, the first humanity, the Holy Spirit". ~The Secret Book of John