Meaning of Tarot Cards – The Major Arcana
Meaning of Tarot Cards – The Major Arcana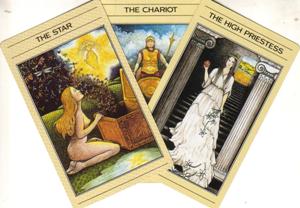 The traditional Tarot deck is composed by 78 cards that are used mainly for divination purposes. They express the actions and manifestation of the main archetypes of Cosmic Life that could bring into our psyche the realization of the many mysteries and secrets for us humans on this journey through the planes of duality. The Tarot desk was widely incorporated into the scope of metaphysics by the occultists of the 19th century.
The first main promotion of the Tarot as a divination tool came from the French occultist Alliette, who used the alias of Etteilla, his own name backwards.  He promoted himself after the French revolution as a seer, psychic and a card reader.
Etteilla designed the first Esoteric Deck.  He added to the cards Egyptian elements, astrological symbols and some altered elements from the original Marseille Tarot. Those that practice the ancient art of card reading with the Tarot know how hard and challenging it is to start a reading practice through the use of the Marseille Tarot.
This maybe because instead of just one conceptual mind, Marseille was a collective creation of an entire group of individuals.
See Also
We have put the basic meanings and summarized the symbols that make up the Major Arcana of the Tarot deck to help you get started the world of Tarot. You can use any deck available.